About Us
Stillwater Goldens
Founded 1979
Always a dog lover, I shared my childhood with a variety of dogs – a Dachshund, Beagle, Irish Setter, Sheltie and a Malamute. I got my first Golden Retriever in 1979 and fell in love with the breed's beauty, loyalty and natural desire to please. My first Golden was sired by a local Champion and was sold to me as a potential show dog. At the breeder's suggestion I took my 12 week old Golden puppy to a local dog match where we won our class. That first place ribbon in the 2-4 month-old puppy class was not a big accomplishment in retrospect but it was that day where I discovered a hobby where dog lovers and their dogs enjoy the companionship of friends, both human and canine.
My first Golden never became a champion but she brought us great joy and introduced us to all things Golden. My second Golden was Sabe, obtained from Laurell Kennel in 1980. He became my first owner-handled Champion in 1983 and his accomplishments included several Group placements, including a Group 1. What a thrill to be in the ring competing for Best in Show with my first Champion! That same year, Jojo, a Golden I purchased from Sandpiper Kennel also completed her championship. These two dogs were the beginning of Stillwater Goldens. Since then, I have had the pleasure of breeding and showing many Champion Goldens.
Stillwater Kennel is located in Ponte Vedra Florida, between Jacksonville and historic Saint Augustine. My husband Don is actively involved in the care of our mini-farm. Naturally he is a dog lover too since I had 3 Goldens and a litter of puppies when we met. Our current dogs include Champions Martha, Maybelline, and Posh along with Chatham (who is on the road now being shown by Jane Myers) and Maybelline's puppy Beckett. They share our small acreage with our two horses and Charlie, our rescue cat. We breed approximately one litter a year. Our objective is to produce Golden Retrievers that adhere to the breed standard. We breed only Goldens that have their health clearances and we guarantee our puppies. Most importantly we focus on producing perfect pets for the families that adopt them.
My First Golden Retriever National Specialty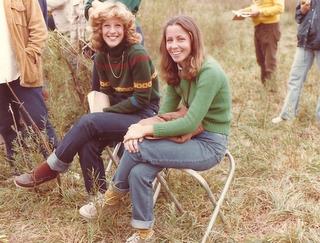 Patty Pace of Sandpiper Kennel (right) and I (left)
watch the field trials
at the 1981 Golden Retriever National Specialty. (It was my first).
We celebrated placements with both Sabe and Jojo a
nd Patty's Champion Rythm was a finalist for Best of Breed.